Mobility and road safety facing the increasing number of users
Intertraffic, the impressive show gathering traffic and mobility sector professionals, has finally been back after two years after the pandemic, from 30 March to 1st April, in Amsterdam. Once again, the show highlighted the latest innovative solutions dedicated to mobility. Professionals pointed out that road safety remains the top priority due to the increase in modes of transportation and users. 
Intertraffic is finally back
There was a warm ambiance in Intertraffic Amsterdam, the show that gathers together all the traffic and mobility professionals every two years. Nathalie Deguen, Sales Manager of PARIFEX, attended this moment expected by visitors and exhibitors "There was a very friendly ambiance, it was obvious that people were happy to meet personally." Mobility professionals were looking forward to meeting after two years without any Intertraffic show. "The show is so large that we cannot meet everybody, but all market participants were present and we were lucky to welcome a lot of people on our booth.", Deguen says.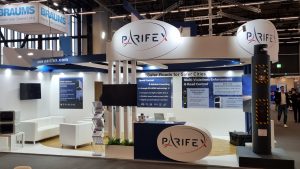 The sector states its ambition for tomorrow
The unmissable Intertraffic show is a vibrant place turned towards the future and solutions for the mobility of tomorrow. "The diversity of participants confirms that it is a dynamic sector.", says Marie-Pierre Aguirregabiria, Project Manager at PARIFEX. 
Nathalie Deguen shares the same point of view "Intertraffic highlights the growing desire to upgrade mobility. Visitors are looking for even more innovative solutions and advanced features." 
Cutting-edge solutions have been introduced during the show, such as the NANO-CAM, the compact and light multi-functional sensor for speed enforcement and road counting. 
Mobility and safety 
Professionals agree that users' safety remains the major challenge for the next few years. The evolution of modes of transportation requires innovative infrastructure that guarantee safe travels. "Many visitors shared their interest for road safety, and it has become a global trend. It is necessary to strengthen users' safety.", comments the Project Manager. Road safety must rely on precise and reliable solutions. "Local communities are looking for advanced solutions that allow to classify users and detect various offences such as the use of the mobile phone while driving, the seat belt, etc.", says Nathalie Deguen.